GHAZI ABDEL BAKI official page

COMMUNIQUÉ #1

LISTEN FOR FREE!

home

ALL THE MUSIC

videos photos press contact

In Communiqué # 1 Ghazi Abdel Baki sings the poems of classical Arab poets such as Eliya Abu Madi and
modern poets such as Nizar Kabbani in a form that ranges from Bossa Nova to Arabic to Samba to Acid Jazz and Rap.
During the late sixties a new musical style emerged in Lebanon and a departure from traditional Arabic Music gained in momentum.
Beirut was transformed in the early seventies into a cradle for interacting cultures and a fertile breeding ground for mixing musical influences and experimentation. With a soundscape that varied from traditional Arabic Music to Psychedelic Rock, a synthesis was born. A musical form that has its roots in traditional Middle Eastern Music but that is strongly influenced by Blues, Jazz, Rock and Bossa Nova.
The allegresse that characterizes the Arabic Maqams (modes) found a new home in the melodic minors in which the western form was adopted.
Today forty years later, musicians in this region are still pushing the envelope to create more variations and new contemporary colors. Communiqué #1 is a lively example of this musical fusion.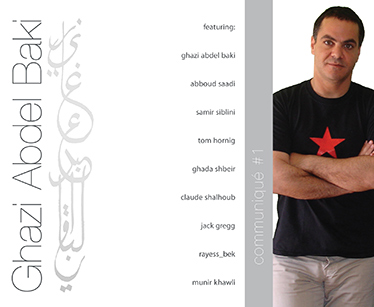 CLICK ON ALBUM TO HEAR