DARWISH

LISTEN FOR FREE!

CLICK ON ALBUM TO HEAR

Sayyed Darwish (1892 – 1923)
In 1917, Sayyed Darwish literally transformed the Arabic musical scene.
After his concentrated studies of various musical schools, including religious chanting, 19th century European music, Italian Opera and the traditional Arab sound emerging out of Cairo, Damascus and Beirut, Sayyed Darwish laid down new musical roots. The sound was indeed novel to the Arab listener and so, despite his successful musical efforts to constantly refine his music, Sayyed Darwish found it difficult to win over his audience. But, despite the audience's initial rejection, he did manage to attract the attention and respect of professional musicians and critics.

Sayyed Darwish's move from these humble beginnings to having several of his plays performed on stage simultaneously in different theaters on a given night was due in large to an historic meeting with the poet Badei Khairy. Arab music history records that since that first introduction, the two were inseparable both artistically as well as personally resulting in a rare and intense period of creativity of theatrical productions.
It would be futile to search the history of Arab music in the twentieth century for a well known or even lesser known composer who was not influenced directly by Sayyed Darwish's art and whom does not consider him an essential music reference.


The listener will rediscover in this CD a large number of Sayyed Darwish's masterful compositions. Ten pieces are featured here, six of which are from various plays.
Despite the fact that all ten pieces have resurfaced after Sayyed Darwish's death in many musical forms and with many vocalists, we insisted on returning to the original recordings of each piece in order to be faithful to the spirit of the compositions. This CD keeps true to the original pieces and expresses at the same time the many facets of our contemporary lives. The music and lyrics are as valid today as they were a century ago!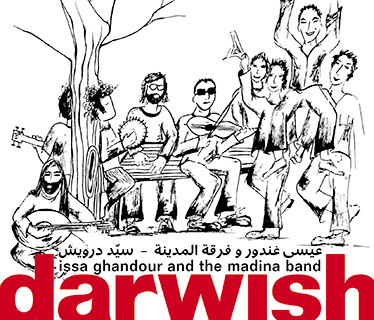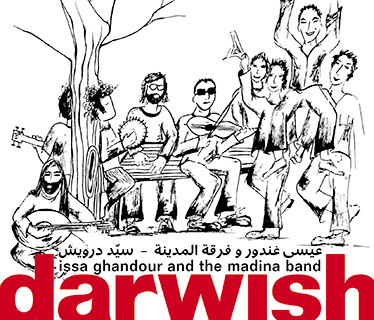 home

ALL THE MUSIC

videos photos press contact

ISSA GHANDOUR & THE MADINA BAND