FACULTE DE MUSIque ET de MUSICOLOGIE DE L'UNIVERSITE ANTONINE - official page



home

ALL THE MUSIC

videos photos press contact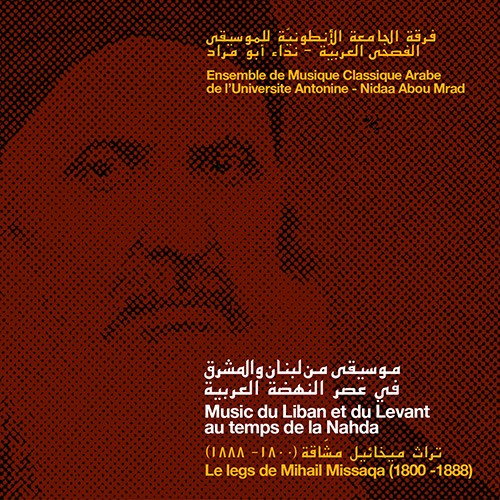 Music from Lebanon and the Levant of the Arab Renaissance
The Legacy of Mīḫā'īl Maššāqa (1800-1888)
موسيقى من لبنان والمشرق في عصر النهضة العربيّة
تراث ميخائيل مَشّاقة 1800-1888
Release Date: 2006

Transcription, adaptation and Musical direction:
Nidaa Abou Mrad

Performed by:
Arabic Classical Music Ensemble - Antonine University

Arabic Violin: Nidaa Abou Mrad
Ce CD est centré sur les mélodies modales qui constituent les modèles mélodiques à partir duquel sont supposées se composer et/ou s'improviser les séquences musicales traditionnelles artistiques du Mašriq et qu'a notées Mīḫā'īl Maššāqa (1800-1888) dans son important traité musicologique A-r-Risāla a-š-šihābiyya fī a-ş-şinā'a al-mūsīqiyya (Épître à l'Émir Bašīr šihāb, sur l'art musical). Nidaa Abou Mrad donne ici des 47 premières mélodies-types qu'il a transcrites de ce recueil des interprétations improvisatives sous la forme de taqāsīm de diverses factures, avec l'Ensemble de Musique Classique Arabe de l'Université Antonine.
يتمحور هذا القرص المُدمج على الألحان النموذجيّة المقاميّة التي يُفترَض أن يتمّ على أساسها تلحين وأو ارتجال الفقرات الموسيقيّة التقليديّة الفنّيّة الخاصّة بالمشرق، والتي دوّنها ميخائيل مَشّاقة (1800-1888) في الرسالة الشهابيّة في الصناعة الموسيقيّة. ويقدّم هنا نداء أبو مراد عن الألحان النموذجيّة الستّ والأربعين الأولى التي دوّنها نقلاً عن الرسالة أداءً مرتجلاً على شكل تقاسيم في صيغ متعدّدة، وذلك مع تخت الجامعة الأنطونيّة للموسيقى الفصحى العربيّة.
LISTEN FOR FREE!


Ūd: Mustafa Said
Qānūn: Maria Makhoul
Riqq: Ali Wehbé
This CD focuses on modal melodies that constitute the melodic models on the basis of which are supposed to be composed and/or improvised artistic traditional musical sequences of the Mašriq which Mīḫā'īl Maššāqa (1800-1888) has noted in his important musicological treatise A-r-Risāla a-š-šihābiyya fī a-ş-şinā'a al-mūsīqiyya (Epistle to the Amir Bašīr šihāb on the Art of Music). Nidaa Abou Mrad here presents the 47 first modal melodies he transcribed from this collection, some improvised interpretations in the form of various taqāsīm with the Classical Arabic Music Ensemble of the Antonine University.
Click on image for track listing
Click on image for more info - Arabic

Click on image for more info - English
Click on image for more info - French